Referring to cosmetics, it is no longer strange, especially for women. It's familiar, but are you confident in choosing the product for yourself when you get lost in a large supermarket that sells a lot of quality and cost-effective products? Let us tell you how to choose safe cosmetics that are both quality and super economical.
Cosmetics are products that are applied and rubbed, .. directly on any part of the human body to clean, protect the skin, and beautify. Referring to cosmetics in supermarkets because of their affordable prices, are often "labeled" as not as good as buying in stores. But the reality is not so.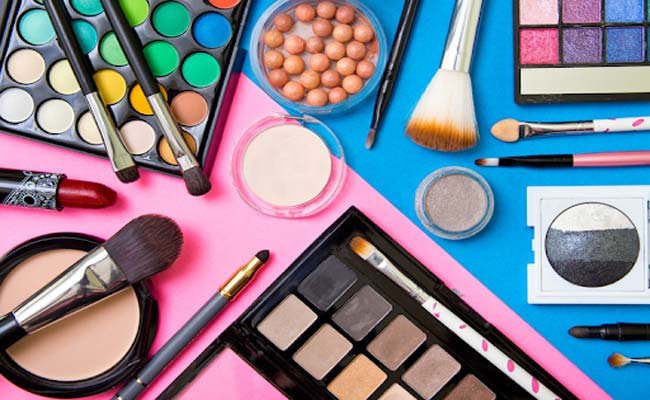 Cosmetics in supermarkets often include makeup products, .. Skincare products from brands with fairly affordable prices that anyone can buy. For some people who are new to skincare as well as beauty, this is considered a reasonable choice.
That's why these cosmetic lines are often very familiar with every girl's name. Buying economical cosmetics is not buying a cheap product,.. But if the quality of the product you buy is commensurate with the money you spend, the most suitable for your body, it will be considered "BUY". SAVE COSMETICS"
How To Choose Safe Cosmetics By Smart People
Everyone has their own ways of choosing safe cosmetics. However, you need to know that choosing the wrong cosmetic causes very serious consequences.
Cosmetics have a direct effect on our bodies. Buying bad cosmetics will destroy inherent beauty. For cosmetics sold in supermarkets, customers can rest assured because goods of many large supermarket systems such as Metro Cash & Carry, Big C, and Co.opmart,
goods that want to enter the supermarket need to be entered. have appropriate quality records in accordance with the law, and have a clear product origin… At the same time, supermarkets also conduct periodic random checks, if the goods do not meet the standards,
they will stop selling. However, the control of too many goods at the same time makes errors inevitable even in large supermarkets. Be a smart beautiful woman, and equip yourself with sufficient knowledge before choosing to buy cosmetics.
1: The Way To Choose Safe Cosmetics Is To Stay Away From Substances That Seriously Affect Users.
Para hydroxybenzoic acids (parabens) are used to fight mold, but this substance only temporarily inhibits the bacteria in cosmetics, so it is easy to bring bacteria to the user, and in the long run, it will change the user's personality. and can also cause cancer. Parabens often appear in underarm rollers, hair removal creams, lotions, deodorant sprays, body lotions, cleansers, shampoos, and shaving gels.
Sodium Lauryl Sulfate and Sodium Laureth Sulfate are often used in cleaning cosmetics such as shampoo, shower gel, bath oil, and dishwashing liquid. It is by far the most dangerous ingredient contained in skin and hair care products.
Phthalates are found in baby shampoos, baby powders, and fragrances, and phthalate exposure early in life is directly linked to altered hormone levels as well as allergies and runny noses. and eczema (eczema) increased. Newborns may be more severely affected than other older children or adults because their reproductive, endocrine, and immune systems are still developing.
In addition to harmful substances in many illegal production facilities to save production costs and create trust among customers, the ingredients of cosmetics have included toxic chemicals such as corticosteroids, parabens, formaldehyde, propylene glycol, and lead. , mercury, zinc, cyanide … because these substances are cheap, but effective quickly.
2: Not To Be Greedy For Cheap Cosmetics. Causes Of Skin Irritation.
Cheap cosmetics do not contain skin protectants, because these active ingredients are often very expensive. Cheap cosmetics are not inspected by authorities. Therefore, it often causes skin irritation, acne, swelling, and allergies around the areas of cosmetic application.
3: Fake Cosmetics Affect Your Health And Cause Skin Diseases. You Have To Be Really Alert In How To Choose Your Safe Cosmetics.
There have been cases of emergency due to the use of cosmetics on a large scale such as whitening baths. When incubating the white bath cream, the substances in this cream are phenol. Or resorcinol has effects on the heart. May slow or speed up your heart rate. Mild is not a problem, but a history of medical problems can be fatal.
There are many potential diseases from fake cosmetics. We give the above warnings so that users can be proactive in using cosmetics properly. And equip yourself with the safest ways to choose cosmetics.
4: Affect Facial Aesthetics.
The use of cheap cosmetics not only harms inflammation, allergies, .. skin cancer, but also degrades aesthetics and "beauty".
Besides, using cheap cosmetics also causes skin diseases such as melasma, and skin pigmentation, Is an opportunity for microorganisms to penetrate, the influence of ultraviolet rays, and bacteria. In the long run, leading to skin aging, wrinkles around the eyes and mouth area appear.
To choose to buy goods and SAVE cosmetics, you need to comply with the following standards.
1: The Smart Way To Choose Cosmetics Is To First Determine The Product To Buy.
Like any supermarket, cosmetic items are beautifully decorated. Goods of the same category will be placed together and divided into separate stalls. (For example face wash on one shelf, lotion in a separate stall, shampoos, ..) search and very easy to stimulate "BUY". If you are not alert, you will fall into a state of rampant and wasteful buying.
Ask yourself: "What kind of cosmetics do I need, what cosmetics are really necessary for, or is this makeup item suitable for my skin, my style ..?" It will help you a lot in choosing cosmetics. And remember to read carefully review before deciding to buy any. For example, you can read the review on Injoyreview.com about Heaux Cosmetics Review– a comprehensive review of Heaux Cosmetics.
2: Stay Away From Products That Mix Substances That Are Not Good For The Human Body.
You can also see the extremely toxic effects of chemicals mixed in the cosmetics I mentioned above. Therefore, before buying a certain cosmetic, whether in the supermarket or anywhere, take some time to read the ingredients of the product to avoid buying cosmetics that contain harmful ingredients that seriously affect them. to our own health.
3: The Smart Way To Choose Safe Cosmetics Is To Listen To Your Body And Choose The Right Cosmetic Line For You.
You buy a set of expensive, high-quality whitening lotions from a big brand in the supermarket. You think it will be good for your skin. But that's just what you think, in fact, no matter how good cosmetics are, they still have their own characteristics. Suitable for different skin types. Find out for yourself and feel which cosmetic line will suit your body. Which ingredients will benefit…. To get the most out of the product.
For Normal Skin:
Normal skin is a pretty ideal skin type. Skin is usually smooth, has small pores, good elasticity, and less acne. Skincare is usually not too difficult, but you also need to pay attention to the element of gentle cleansing and effective moisturizing. The more whitening effect, the better. In addition, you can also apply natural masks from fruits such as tomatoes, .. Cucumbers, and potatoes … To fight age, keep the skin as smooth as possible.
Dry Skin:
Should choose cosmetic lines that provide high moisture. Facial cleansers should be mild, non-foaming, and detergent-free. The shower gel contains about 25% cream content and has a pH of about 5.5. Use skincare products and makeup removers extracted from olive oil and coconut oil. Makeup cosmetics, and lipsticks, … are extracted from nature and retain high moisture for the skin when applying makeup.
Oily Skin Nature
This type of skin is prone to acne due to overactive sebaceous glands. You should use a mineral spray regularly to keep enough moisture for oily skin. So that the sebaceous glands are not overactive. Choose cosmetics containing pure essential oils from nature for oily skin. And cosmetics containing zinc oxide are anti-inflammatory, antibacterial… For oily skin.
How To Choose Cosmetics For Combination Skin (T-zone Skin):
Use mild face washes. Provides high moisture and cleaning capacity. For combination skin, the indispensable product is rose water. And should choose many different creams for each different skin area. Specialized products for combination skin extracted from nature are always put on top.
5: It Requires Skills To Distinguish Between High-quality Cosmetics And Fake Cosmetics.
Although currently on the market there are many fake and imitation cosmetics that have been made very sophisticatedly, like the real thing from design, scent to color. It is very confusing for consumers. This leads to falling into the situation of losing money. However, we can still identify what is fake and what is real by looking at the appearance and feel of the product.
In Terms Of Feel
Real cosmetics always have quality and characteristic scents. When choosing to buy cosmetic products such as lipstick, powder, blush, eyeliner… You try lightly on the skin under the wrist. Real cosmetics have a mild scent, smooth coverage, and shine. Meanwhile, fake cosmetics have a strong, strong smell that can cause headaches for a long time. Real product with delicate lines. Clear ink, sharp edge packaging. Mild fragrance.
How To Choose Safe Cosmetics Through Product Form.
Applied to closed canned products that cannot be inspected visually, it requires users to have skills in distinguishing goods through barcode labels and product packaging. Quality products will be focused on production, .. Printing, product quality… to the packaging process. Especially the information printed on the sub-stamp of the product.
We can find extra labels on any product. From small bottles of cleansers to cosmetics of big brands. A commodity label is a sticker that is additionally affixed to products imported from abroad. The sub-label of goods includes all information about the product translated from the original label.
Cosmetic products from Korea, Japan, Thailand, etc. are being sold a lot in big supermarkets in many countries, so the extra-label plays a very important role. Help consumers understand and trust that type of cosmetic.
For counterfeit goods, most of them have no barcode, and no extra labels attached, if any, it's just a piece of paper glued on. The presentation and printing are not clear. The Paper has bad quality, the text is too small or too big. Barcode printing ink only needs to "scratch lightly" which has faded, lost information, or is easily peeled and torn.
There is no anti-counterfeiting stamp from the Ministry of Public Security. Barcode labels are a substitute for businesses to affirm their brand and gain the trust of customers. The important thing is that if not focused, the quality of the product will certainly not be good.
When used, do not fully absorb into the skin. Feeling greasy, heavy on the skin, strong fragrance. In addition, counterfeit products often change the name to closely resemble the real product name, instead of Lancome, it is Lancome, .. ShinBing is ShingBing, and Shiseido is Shiseido…
In contrast to genuine standard products, with good quality, .. Barcode labels also have their own standards:
Standards You Should Look For
The packaging is printed sharp and sophisticated. Bottles, tubes, and paper boxes are not distorted. The ink is clear, not smudged. Logo, clear writing.
For tube products, the tail will have a barcode and an embossed expiry date.
Barcode labels must be affixed in recognizable positions, attracting the viewer's senses.
Cosmetics such as shampoo, and shower gel, In contact with water during use, will be printed from good materials such as PVC plastic decal (heat resistant, high water resistance, tear not tear, can resist some chemical solvents, for high definition image quality..),. Clear decal, shaded decal, milk decal,…
On the secondary label, there is full information about the manufacturing company or the distribution company. And detailed product information according to the main label to avoid misleading users. In addition, the company's address and contact phone number. Helps consumers easily search when they have questions about the product.