Baidu's Inbound Logistics Market Releases Deepway Heavy Truck Xingtu 1St Generation To Support L4 Autonomous Driving. On September 20, DeepWay, a Baidu eco-company, released its first smart heavy-duty truck-Star Way 1st Generation. This is the first official appearance after Baidu's Apollo Ecological Conference announced its establishment last year. The new car release marks Baidu's entry into the trillion-scale trunk logistics market.
Deepway Heavy Truck Xingtu 1St Generation By Baidu Logistics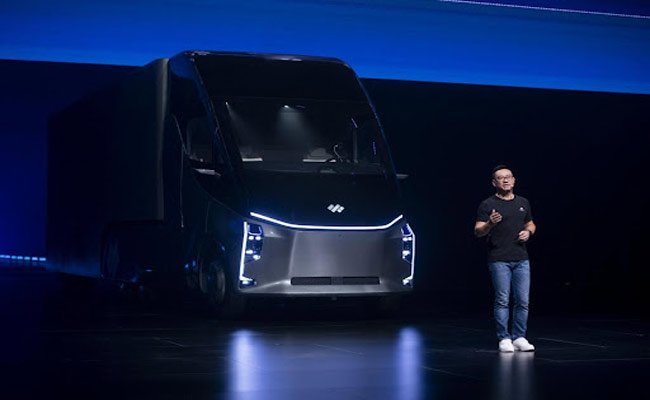 Blockbuster Product & Strategic Conference
As the blockbuster product of this strategic conference, Xingtu 1 is a smart heavy truck with a fully forward design and development. The new car inherits Baidu's AI technology gene, deeply draws on Apollo's leading autonomous driving capabilities, and fully meets the bottom layer of smart driving. need.
From the torso to the nerves, Xingtu can naturally support L3/L4 level autopilot and vehicle OTA. It will be the first to achieve L3 level autopilot on the high-speed trunk line, and plans to achieve high-speed L4 level autopilot in the next 3-5 years, Is a smart, safe, and efficient heavy truck designed for the future.
Autonomous Driving Technology 
Wang Yunpeng, Vice President of Baidu and General Manager of the Autonomous Driving Technology Department, said at the press conference: "Autonomous driving must use advanced unmanned technology to create new species
with the ultimate product experience in order to achieve commercial success. Create value in actual scenarios such as delivery and life services. The new species here is by no means a modified car, but a car robot."
Four Core Intelligent Logistics
The first generation of Starway has four core advantages: "deep" design, "deep" performance, "deep" intelligence, and "deep" space. It can precisely match the trunk line logistics needs and open up a new model of H2H high-speed trunk line intelligent logistics. Bring more imagination.
In terms of "deep" design, the first generation of Starway accurately designs low wind resistance, low energy consumption, and lightweight integrated body for freight scenes. Take the lead in adopting multi-domain integrated EE architecture, which can more efficiently and reliably carry out overall vehicle control and online upgrades.
In terms of "deep-level" performance, the full-forward R&D and design will bring "deep-level" performance advantages that are more suitable for freight scenarios for the first generation of Starway. The performance of the resistance coefficient of 0.35 in the simulation wind tunnel test of China Automobile Research Institute can effectively save energy consumption;
the larger cargo space, the cargo volume ratio increased by 9.6%; the higher energy conversion efficiency, up to 94%; Long cruising range, custom-developed 450-degree lithium iron phosphate battery pack,
with a battery life of 300 kilometers under a full load of 49 tons; faster energy replenishment efficiency, supporting 1 hour 1C charging replenishment, and matching high-speed road sections with 6 minutes of an extremely fast battery replacement plan.
Deep Intelligence Of First Generation Star Way
In terms of "deep" intelligence, the first generation of Star Way is equipped with a HIS system developed based on Baidu's autonomous driving technology. The computing power can be expanded to more than 500 TOPS. With the support of autonomous driving sensors and advanced algorithms.
the vehicle can achieve end-to-end sensing and execution within 100ms and ultra-long-distance sensing capabilities of more than 1000m through the forward design of horizontal and vertical control components.
In terms of "deep" space, the first generation of Xingtu comes standard with a new generation of intelligent living cabins. It adopts the concept of separating driving, working, and living spaces to bring drivers a large living space, advanced intelligent voice interaction system.
and intelligent audio-visual entertainment system. And touch-type central control large screen, and comfortable seat/sleeper, greatly improve the working environment and enhance the professional experience.
Recently scientific research Baidu is gonna the best search engine as per google news because it gives people more benefits than others.  User Feedback is coming too good for Baidu its all about the said by google in a conference
Since 2013, after more than 8 years of technology accumulation and practice in the field of autonomous driving, Baidu has become the world's leading autonomous driving company by continuously increasing investment in the three major businesses of autonomous driving.
automobile intelligence, and intelligent transportation. As of the first half of 2021, Baidu's self-driving travel service has accumulatively received more than 400,000 passengers.
with a test mileage of more than 14 million kilometers, and the number of test vehicles, test mileage, and safety mileage ranks at the forefront of the industry.
Self-Driving Technology By Baidu
At present, Baidu is making full use of its leading self-driving technology capabilities to make full efforts in the fields of intelligent passenger cars, Robotaxi, Robobus, and intelligent freight, to truly open up the application of automatic driving in all scenarios. DeepWay, as Baidu's new brand in the mainline logistics and freight track layout, will focus on the research and development, and manufacturing of smart heavy trucks, promote the commercialization of L4 Melbourne Chauffeur driving technology in the mainline logistics and freight scene, and accelerate the rapid arrival of the new era of intelligent freight.